Outdoor Flooring Dubai Will Modernize The Whole Outdoor Scenario
Outdoor flooring Dubai is an essential floor covering solution that serves as the best for you if you have got some extra love or affection for nature. In the present age, outdoor wooden flooring is becoming a newly emerging trend to revamp the entire look of your outdoor spaces.
Outside flooring UAE is the best floor covering solution for your outdoors if you want to enjoy the most mesmerizing scenarios with highly appealing looks as well. These SPC floors are completely practical.
Outdoor flooring Dubai Comes Up With Standard Crafting Approach
The flooring outdoor solutions offered by our company are available in a vast variety of different types. So that you can select one floor comes up with great functionality to fulfill your needs and requirements. Let us have a look at some of the important crafting credentials for our top-quality outdoor rubber flooring in wooden tile design.
These floors have manufacturing materials like PVC, wood, vinyl, plastic, stone, and other high-quality materials.
The overall manufacturing process of these floors is carried out by employing only high-quality materials.
You can get outdoor flooring Dubai installed in different places like patios, decks, and gardens as well to enjoy the most natural look.
Outdoor floor service is the latest floor covering solution for innovative homeowners.
Select Featured Outdoor Flooring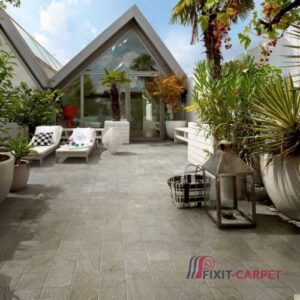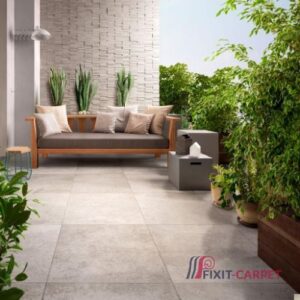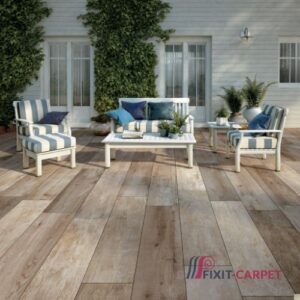 We Offer Different Types Of Outside Flooring Dubai At Affordable Rates
Being a top-notch flooring company, we always give priority to our clients. We never compromise the manufacturing quality of these floors in order to provide the clients with excellence. A wide collection of supreme quality outdoor floor covers is present in our showroom so that you can choose wisely from these high-quality options.
We have got outdoor rubber flooring, outdoor wood flooring, stone flooring outdoors, and many more floor types of top-notch quality for our clients. Our rubber flooring outdoor is the sturdiest and most durable outdoor wood flooring Dubai that you can ever have for the perfect addition to the beauty of your outdoor spaces.
We also try to keep the price tag of our outdoor flooring stone and high-quality floor covering parquet flooring products of other materials low in order to facilitate the clients. Besides the low pricing approach, we offer different kinds of discounts and promotional deals as well. All these steps are purely taken to facilitate our clients.
Why Choose Us For Outdoor Flooring Dubai?
Our company is the oldest and most experienced flooring company not only in Dubai but in the entire United Arab Emirates as well. We operate in all parts of the country, no matter which part of the country you live in. We never compromise on our product's standards.
The delivery system of our company is very responsive and fast. You will get all your products delivered just at the promised time. Besides offering you a premium-quality outdoor floors, we also offer you installation services as well. So hire us today to get the ultimate high-quality outdoor flooring Dubai with perfect installation services.